ANTI SNORING MOUTHPIECE FOR WOMAN

Custom Stop Snoring Device
DESIGNED FOR WOMAN WHO NEED THEIR SLEEP

SnoreMeds for Women is affordable, easy to fit, comfortable to wear, safe and guaranteed to work.
This anti-snoring mouthpiece works by gently repositioning the lower jaw further forward during sleep, preventing the soft tissue and tongue from falling backwards and partially blocking the airway which leads to snoring.
Designed specifically for women's smaller mouths, SnoreMeds for Women stop snoring devices are as comfortable as they are effective.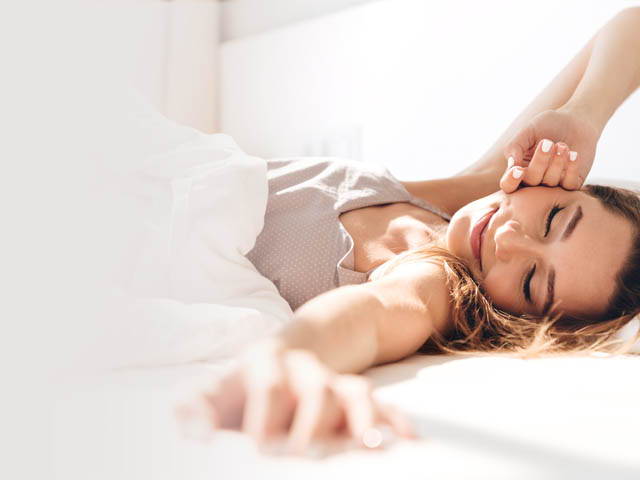 REAL REVIEWS BY WOMEN WHO STOPPED SNORING
"Honestly I did not think this would help my snoring the first night it popped out of my mouth while I was sleeping. However since then I have slept wonderfully. It now stays in my mouth it took some adjusting but I was able to sleep better and I was told by my parents that they can't hear me snoring anymore.
I love my snoremed I would recommend it to anyone who has a snore that is uncontrollable."
Tiara A.

SnoreMeds Verified Buyer - Small Fit for Woman

"I can't say enough. I have tried so many of these devices only to have sore gums, excessive drool and less sleep. From the first night I used the SnoreMed I was able to sleep without being restless and waking. The small size makes it perfect and you become completely unaware you have it in.
It has changed my life! I am finally back to my energy level and feel great again getting a full night of sleep.
I would highly recommend this product to anyone looking to solve the snoring problem."
Amy G.

SnoreMeds Verified Buyer - Small Fit For Woman

"I CANNOT TELL YOU HOW MUCH IT HAS HELPED, I am very sensitive so I was very surprised when I went right to sleep on the first night I had it also I feel like I have more energy and feel much more rested I have referred my sister to your company and she has purchased one also. I had actually ordered another card that was so big and uncomfortable the big plus for me was that it came in a smaller size for women I am very thankful for your product can't tell you enough about my appreciation and the price for this product"
Connie H.

SnoreMeds Verified Buyer - Small Fit For Woman
WHAT IS YOUR GUARANTEE?
45-Days Money Back Guarantee
Satisfaction Guaranteed
HOW LONG WILL IT TAKE TILL I RECEIVE MY ORDER?
We ship the same day when you place your order by 3pm EST. Your order will arrive within 2-7days within the USA and 10-14 business days if being shipped outside the USA.
WHAT SIZE SHOULD I ORDER?
Double packs are recommended for first time users
Value packs for regular users
Single packs to top up or give to a friend
SnoreMeds has been specifically designed to comfortably support the lower jaw in a forward position. By repositioning the lower jaw by 0.1 inches, it opens up the airway sufficiently to allow the airflow to flow unobstructed during our sleep.
HOW DO I FIT THE SNOREMEDS MOUTHPIECE?
Heat in hot water for 60 seconds, bite firmly into the mouthpiece to create custom teeth impressions and then cool in cold water for 30 seconds. This will give you a comfortable and personalized fit.
HOW LONG WILL THE SNOREMEDS MOUTHPIECE LAST?
Manufactured life span per mouthpiece is 1 year, however we highly recommend that you change the mouthpiece every 3-4 months for the hygiene and safety of your teeth and gums.
WHAT IS INCLUDED IN MY ORDER
Single pack: 1 mouthpiece, 1 fitment spatula, 1 anti-bacterial container, instructions
Double pack: 2 mouthpieces, 1 fitment spatula, 1 anti-bacterial container, instructions
Value pack: 4 mouthpieces, 2 fitment spatula, 1 anti-bacterial container, instructions
IS SNOREMEDS BPA AND LATEX FREE?
Yes. SnoreMeds has no BPA or latex and is made of a hypo-allergenic material approved by the FDA.
CAN I USE SNOREMEDS WHEN I HAVE DENTURES?
No, SnoreMeds is NOT suitable for people that wear dentures, have sore gums or children under the age of 18.
HOW DO I CLEAN MY SNOREMEDS MOUTHPIECE?
You clean it with a toothbrush and toothpaste.